don scott 1958-1959
the cross country program at tippecanoe was born in the fall of 1958. don scott was tipp's first coach. the team competed in predominately dual meets. larry lachey was the top runner for the red devils which finished 3rd in the league that year. scott only coached for two seasons.
myron hagg 1960
not much about coach hagg and his team. he only coached for one season and the team did not record any notable performances.
jack crew 1961
the 1961 team finished with 3 wins and 5 loses in dual meets. the team did feature the program's first conference champion in tom rohrback.
ron holtrey 1962
coach holtrey contined a string of one year tenures. there is no notable information regarding the 1962 squad.
jack prater 1963-1968
coach prater and his boys team captured the school's first league and district crown.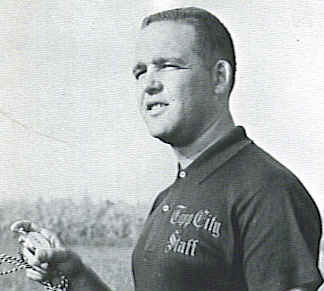 the red devils grabbed a district title in 1965 and a league title in 1966. they were runner up in the league three times during prater's coaching tenure. the red devils qualified for the state meet in 1964 for the first time in school history. the 1965 squad made back to back state apperances led by rick wintrow (10:18 pr).
rick housman 1969
after prater's departure, rick housman took the position. the red devils finished 11-10 in dual meets in housman's only year at the helm.
tom rogers 1970-1976
rogers and the red devils established a 4 year dynasty. beginning in 1972, tipp made their first appearance in the state meet since 1965. they finished a distant 16th place at the 72 state meet, but this marked the first of four consecutive trips to state. rogers team finished 5th the following year. they were runner up in 1974 and 75. rogers coached 5 all ohio runners and the red devils captured 3 league, district, and regional titles during his run.
dave carroll 1977-1984
dave carroll took over in 1977. although carroll's teams never won a league titles, the program still produced outstanding runners. carroll had three state qualifier's in carl huntsberger, todd hartline, and leslie judy. hartline and judy won the league meet in 1983. carroll's tenure marked the beginning of the girls' program in 1983.
dave ballenger 1985
ballenger only spent one season coaching the red devils. leslie judy and laura hetzler both earned all-conference honors in ballenger's only season.
jane tollefson 1986-87
jane tollefson spent two years as head coach. numbers began to dwindle and the team struggled to be competitive. the athletic department decided to discontinue the program in 1988.
bob crawford 1993-2003
bob crawford resurrected the cross country program in 1993. in 93, chris lynch recorded a 17:06 for the red devils which ranked as the fastest 5k since todd hartline's 16:30 in 1983. lynch along with chris lightle (17:07)provided a competitive boys team for crawford in the mid 90's. in 2000, the girls program was bolstered by freshmen melanie grim, sarah rambeau, and nicole rambeau. grim eventually earned all-ohio honors finishing 7th at the 2003 state meet. crawford's 2002 girls team won the first and only district title. crawford deserves credit for his effort in restoring the program and steadily improving the program.
dave larson 2004-2006
crawford graciously gave way to dave larson. larson was a standout runner at covington high school and bowling green state university. he quickly had the red devils in contention for cbc titles and state appearances. larson's 2005 girls team won the first conference title in school history.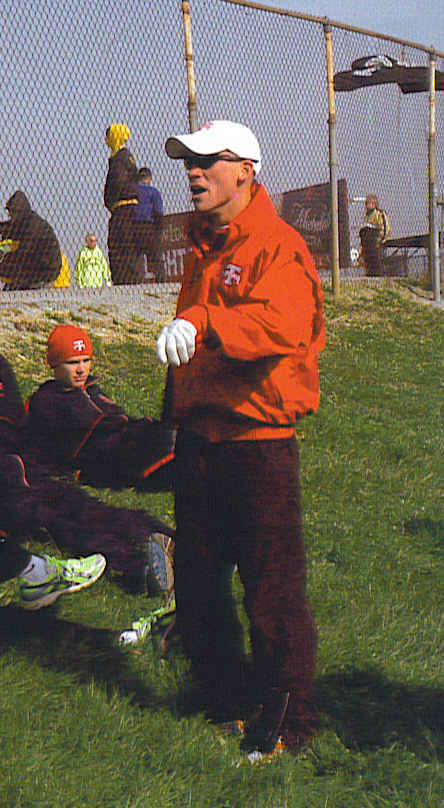 his 2006 boys team qualified for the state meet for the first time since 1975. they finished 8th. dave injected enthusiasm and built up numbers. larson also implemented two elements to the cross country program. first, he initiated the first ever runathon. this 24 hour fund raising event has been a staple in the program ever since. second, larson orgranized the first hueston woods camping trip. these events immediatley created added enthusiasm and interest in the cross country program. larson resigned after three highly successful years to take an administration position in russia schools.
ron rohrer 2007-2008
the venerable ron rohrer took over as head coach in 2007. rohrer had spent several years as the head coach at springboro high school. he inherited a talented program. his 2007 teams each won cbc titles. the boys team began a run of three consecutive cbc, district, and regional titles. they finished 5th in the state that season. in 2008, rohrer's boys team spent much of the year ranked #1 in the state. they finished 2nd in heartbreaking finish to penn. woodridge 96-99 at the 2008 state meet. jason salyer finished 3rd overall with a school record 15:45. rohrer also coached all ohioan katie landwehr. landwher finished 6th overall in 2008.
byron kimmel 2009-present
byron kimmel became the 14th head coach in program history. he has coached two individual state champions in katie landwehr (2010) and sam wharton (2012). nine athletes have reached all-ohio honors during kimmel's stint. as a team the boys have collected 10 county championships, 9 conference titles, 5 district titles, and 4 regional titles (including 3 in a row).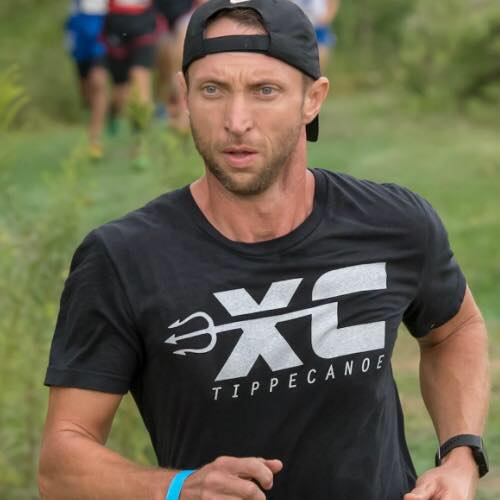 the boys have qualified for the state meet 7 times finishing as runner-up in 2013 and 2015. the 2014 boys team won the school's first team championship in history. the girls program earned their first state qualifying berth in kimmel's second season. the girls have won 7 county titles, 4 league titles, 4 district titles, and 3 regional titles. they have qualified for the state meet 8 times during coach kimmel's tenure finishing as runner-up in 2015.