this page is dedicated to tipp xc members that have persevered through burnout, injury, health issues, and a loss of confidence to name a few. it is my hope that these stories provide exactly what i just said.....hope.
"i'm going to run at the state meet"
i began my head coaching career in 2009. the boys varsity team returned 3 members of the 2009 state runner-up team. this coupled with the loaded freshmen class (wharton, koch, andrews, noone) made for high expectations in year one. however, i wasn't sure how durable the freshmen would be so added depth would be key. enter senior joey o'brien. o'brien by his own admission had been a jogger his first two seasons. a significant growth spurt provided joey with new confidence and goals. as a freshmen and sophomore he tooled around in the mid 20's. he became a solid low 19's runner in his junior season. however, it was his senior year which would leave a mark on the program. i didn't even know who he was when he showed up to summer training...never had him in class or remembered him in middle school. he was quiet but focused and i immediately found myself impressed with his attitude and work ethic. at the annual campout i asked many members of the team about their goals. when i posed the question to joey, several of the team were sitting around the campfire near dusk. joey had fashioned a stick that he impulsively sharpened into a spear. he was intently focused on this task as i asked him. without diverting focus from this masterpiece he said,"i'm going to run at the state meet this year. i'm going to be on the varsity and the team is going to state." i was immediately a joey o'brien fan.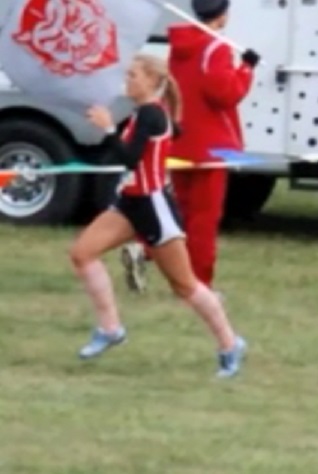 "i want to do well this year"
after the 2009 season i spent much of the winter trying to come up with a strategy on how to change the culture of the girls team. the program had improved and showed glimpses of "turning the corner" only to regress the following year. the attitude and work ethic of the girls was very inconsistent. this had to change. there were several runners that had underachieved and just needed the right focus and training to turn it around quickly. senior jessica bruggeman was one of those runners. bruggeman had shown potential as a freshmen running in the low 21's; however, she regressed the following two years. jessica came to me early in the summer, "coach, i want to do well this year. i will train hard." this was huge to have a senior that could have coasted through another season and move on to college life.
jessica put in a solid summer of training. her effort and motivation was key in moving the team to the next level. bruggeman dropped her times under 21 and became a solid #5 runner by season's end. her consistent performances were critical especially at the regional meet. jessica passed 4 opponents in the last 400 propelling the girls team to its first ever state meet birth. it was a historic moment for the program.

why part time jobs in bangaloreFlexibility to work from home or any location with internet access.part time interior design jobs los angeles
part time jobs near me 92508If you are interested please send your resume and a short introduction video to our email address bbb@bbb.com. We will review your application and contact you soon.how to make money from amazon from home
part time work from home jobs glasgowReferrals Encourage current employees to refer friends and family members for data entry jobs. You can offer a referral bonus to incentivize them.part time jobs from home milwaukee